You can depend on us
to deliver the very best.
Arley Moss Equestrian offer a wide range of equestrian services to suit every rider and every budget. Our yard has a great family atmosphere and is a haven for horses and horse lovers.
Below you will find most of the services we offer but if you can't find what you are looking for just ask us, the chances are if we don't already offer it we can arrange it for you!
Livery at Arley Moss Equestrian

DIY Livery offers a 12ft x 12ft or 15ft x 15ft stable, depending on the size of your horse, electric fenced paddock grazing and the full range of facillities. 3 grades of specialist homegrown haylage/hay and top quality shavings or straw all at very competitive prices. A "Turnout" service is available tailored to fit your requirements.

Our Full livery includes a deep shaving bed on specialist equine rubber flooring with automatic water feeders, the choice of 3 grades of specialist home grown haylage or hay to suit your horses activities and pallet, a choice of hard feeds, turn out and bringing in of your horse daily, light grooming, handling for vets and farriers so no more need to waste your precious holidays or time from work and free unlimited use of all facilities, even when bringing your own instructor.

Specialist self service or assisted equestrian laundry on site.
We have summer and winter grazing for mares with foals at foot and all year turnout for your weaned yearlings.




Our latest addition to the Arley Moss family crop of foals this year. One hour old taking his first few tentative steps of life!

All Year Round Grass Livery
Whatever your reason, why not send your horse to enjoy grass livery on Cheshire's beautiful Arley estate?

Grass livery at Arley Moss is based on total care, 24/7 turnout. Here at Arley moss we we specialise in grass livery for young stock, retired horses, injured horses and brood mares with or without foals at foot.

Horses are mainly turned out in on the tranquil parkland of Arley Hall, they are usually grouped by age and/or sex and receive individual care and attention from our experienced staff.

All horses are checked daily , are wormed following a planned programme and receive regular foot care. Many horses with medical problems are living happily in a retired herd. Although we stick to many tried and tested methods of care, all horses are treated as individuals with their needs catered for wherever possible. Owners are kept fully informed and involved as much or as little as they prefer. Yard visits are welcomed and you horse will always be pleased to see you.
Because we don't over graze our fields we are usually able to swap horses onto fresh grass mid winter. To supplement this, Premium Haylage is fed when ever required - usually mid December to April. Most fields are edged by woods therefore the horses can find plenty of shelter away from the wet English weather. For horses requiring individual or more specialised care please contact us to discuss options.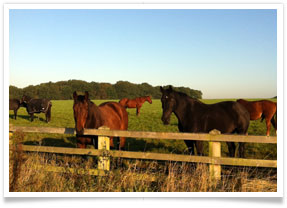 We are happy to take care of everything from farrier visits and flu jabs to changing rugs and worming. Designated stables are kept free at the main yard should they be required for any unforeseen events.

We offer turnout for in foal mares and can provide foaling facilities including foaling boxes with viewing cameras.
Retirement Livery At Grass
A horse doesn't have to be old to live at Arley Moss on retirement grass livery. We have horses who are retired due to injury and enjoy a happy life with us. Often horses who live on painkillers due to conditions like arthritis find they do not need this help when they are able to wander about in the fields as they wish. Stabled horses usually adapt very well once they have bonded with their 'mini herd'.
We encourage horses to be well rugged in the winter and are happy to change rugs throughout the seasons. We are also able to offer stabled full livery in the winter should you require this. Our aim is to provide the horses with what they need to enjoy this stage of their life and provide you with peace of mind that your horse is relaxed and happy.
Rehabilitation Livery
The facilities at Arley Moss Equestrian mean we are set up to offer rehabilitation livery. On either a long or short term basis, your horse can benefit from use of the horse walker and playpens, small hospital paddocks and individual care. Our visiting equine osteopath, Bruce Hewitt, can be called upon and we are happy to work alongside any of the local vets.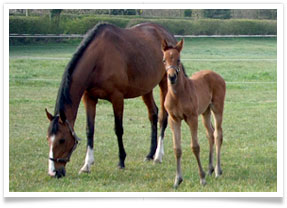 Youngstock Livery
Youngstock care can be quite specialised. This begins with handling the foals and weanlings and continuing this care as they grow older. We aim to teach all youngsters to lead, have their feet trimmed and generally behave. ( additional charges may be Due in extreme cases of wild, nervous or shy youngsters due to the amount of time we would need to spend with them) We also place great value on natures way of teaching manners to young stock; Often slightly unruly youngsters benefit from grazing with an older matriarch.

In addition to the above, grass livery holiday livery and short term grazing is also available.

For more information or to arrange a show round please call Alison on 07769700768 or email grazing@arleymossequestrian.co.uk
Professional Advanced Training at Arley Moss Equestrian
Arley Moss Equestrian offers professional training for all disciplines. Our trainers reputations and client base speak for themselves. We regularly hold specialist clinics with Ian Woodhead and Richard Carutthers and cater for every skill level.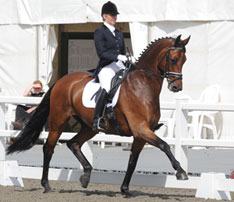 Dressage Training with Grand Prix Dressage Rider Di Hogg

Now based at Arley Moss, Di Hogg is still remembered for her partnership with the fabulous roan horse Barollo who she trained herself from Novice to Grand Prix and achieved a place on the Olympic Long list.
Having trained and competed various horses over the last 20 years, Di has had several horses go onto international success in both Dressage and Show Jumping. In addition to this, her pupils have achieved many accolades including several who reached Young Rider team level and one who won 'silver' at the European Young rider Championships.
With a successful background in hunting, show jumping and Eventing, Di also specialises in helping 'Eventers' with their dressage too.

Contact Di Hogg
07710 189117